Glenview Dentist
Nothing beats a great smile. It boosts your confidence, brings out the best version of yourself, and allows you to do the full range of activities your mouth is built to do.
Having a good dentist ensures your teeth's health is at its peak. At Smart Dental Cosmetic and General Dentistry, we believe that more than just providing elite dental services with state-of-the-art equipment and dental products, it is also essential to provide a comfortable experience to our clients. This way, we make them realize that we are as dedicated to their oral health as they are. We understand that optimal dental health is a crucial component of overall well-being, and that's why we are dedicated to utilizing our expertise to help individuals achieve their best smiles and oral health.
If you are searching for a Glenview, IL dentist who can provide everything you need from the dental industry, Smart Dental Cosmetic and General Dentistry has you covered. We offer the full range of dental services available today, from orthodontia, braces, and Invisalign products to emergency dental care—we have the expert for every dental situation you need to repair, fix, alleviate, and perfect your smile.
If you need a complete dental package or a quick fix after sustaining an accidental oral injury, Smart Dental Cosmetic and General Dentistry can provide you with the best Glenview dentist you need.
Call Smart Dental Cosmetic and General Dentistry today at (224) 243-8196 to Schedule an Appointment with a Glenview Dentist!
Complete Dental Care Providers
At Smart Dental Cosmetic and General Dentistry, patient satisfaction is our top priority, and we take pride in delivering exceptional dental care for your entire family. Our talented and dedicated dentists are committed to providing a comfortable and positive experience during every visit. Our ultimate goal is to leave our patients fully satisfied, with radiant and healthy smiles they can proudly show off.
Routine & Preventative Care
At Smart Dental Cosmetic and General Dentistry, we provide the highest quality dental care and promote good oral health. We strongly believe in regular dental check-ups and cleanings, so we recommend our clients visit us every six months. This timeframe aligns with most insurance plans and is also in line with the recommendations of the American Dental Association.
We provide comprehensive dental cleaning and oral exams as part of our routine client visitation services.
During our comprehensive dental exams, we thoroughly investigate a range of common oral health issues. This includes checking for tooth decay, cavities, signs of oral cancer, periodontal disease, TMJ disorders, wisdom teeth concerns, and issues related to overbites and underbites. We also pay attention to potential sleep apnea and teeth-grinding issues. By detecting these problems early on, we can provide timely and cost-effective treatments for our clients, ensuring optimal long-term dental health.
Our clinic welcomes patients seeking any level of dental treatment, no matter how minor. Our priority is to create a comfortable and welcoming environment for everyone who walks through our doors. Whether you require simple dental advice or comprehensive surgical procedures, our dedicated team is committed to delivering exceptional care and personalized treatment options for all your dental needs.
Corrective & Restorative Dentistry
Maintaining the highest quality smile involves addressing cavities and correcting crooked teeth in a timely manner. At our clinic, we provide a comprehensive range of corrective and restorative dental treatments to help individuals restore their smiles to their optimal state. Our experienced team is dedicated to delivering personalized care and assisting patients in achieving the best version of their smiles.
Our team of experienced Glenview dentists and prosthodontists is dedicated to providing comprehensive dental care solutions. Whether you require a full mouth reconstruction, dental implants, or discreet composite fillings, our priority is to restore your smile to its best and most natural state.
Dental issues that require correction can often present as difficulties with eating, oral pain, or general discomfort while using your teeth. If you are experiencing any of these symptoms, we encourage you to contact our office promptly so we can identify the problem and provide the appropriate treatments as soon as possible.
Cosmetic Dentistry & Teeth Whitening
Looking and feeling great often go hand in hand, and a winning smile plays a significant role in enhancing self-confidence. At Smart Dental Cosmetic and General Dentistry, we specialize in cosmetic dentistry services that are designed to bring out the best version of your smile and help you feel your absolute best.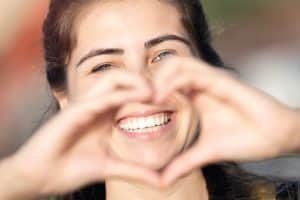 Our comprehensive range of cosmetic dental services includes porcelain veneers, dental bonding, root canal therapy, dental crowns, dental bridges, and teeth whitening. We understand that teeth positioning is a common concern, and we can address issues such as cracked teeth, chipped teeth, decayed teeth, gaps, and misalignment. While some of these services may not be covered by insurance, we strive to offer competitive pricing and provide discount programs and payment plans to accommodate our clients' needs.
Experience exceptional dental care with our dedicated and skilled Glenview dentist at Smart Dental Cosmetic and General Dentistry. We are committed to providing you with the highest quality dental services to help you achieve your best smile and oral health.
Urgent Dental Need?
At Smart Dental Cosmetic and General Dentistry, we understand that dental emergencies can happen at any time. That's why we offer prompt and professional emergency dental care for individuals experiencing severe tooth pain, facial injuries, or unexpected complications. Simply reach out to us, and our dedicated team will be there to provide immediate assistance.
In urgent situations, we prioritize your comfort and well-being. If you've suffered a dental accident resulting in a cracked tooth or severe bleeding, our emergency dentistry services will swiftly address your needs. Whether it's a permanent solution or temporary relief, we will provide necessary treatment, alleviate your pain, and guide you towards complete healing. Our goal is to support you in every way possible during this challenging time.
Putting the Smile Back on Your Face
At Smart Dental Cosmetic and General Dentistry, we are excited to be your trusted dental care provider for your entire family. With our state-of-the-art dental equipment and top-quality products, we are committed to delivering exceptional care. Whether you require teeth alignment services or a full mouth reconstruction project, our comprehensive range of treatments has got you covered.
Our team of highly skilled Glenview dentists is dedicated to creating personalized treatment plans tailored to your specific needs. We prioritize your oral health and strive to bring out the best smile you deserve. Let us be your partner on your journey to optimal dental health and a radiant smile!
Call Smart Dental Cosmetic and General Dentistry today at (224) 243-8196 to Request an Appointment with a Glenview Dentist!