Techny Cosmetic Dentistry
Do you want to bring back your confidence with an attractive smile? Our Techny cosmetic dentistry service at Smart Dental can certainly help!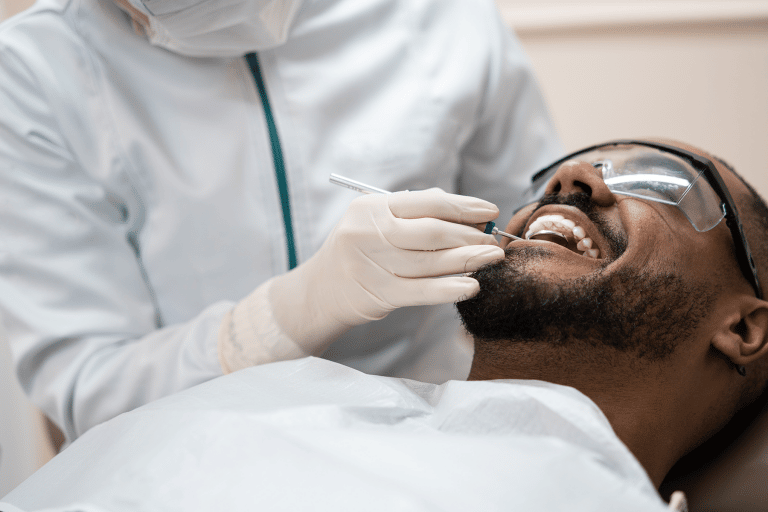 Our cosmetic dentists can expertly determine the right treatment plan for your specific dental problem. Whether you are currently suffering from missing teeth, discolored teeth, uneven teeth, gap teeth, or chipped or cracked teeth, we can provide you with an effective dental treatment to make your smile beautiful again.
As a comprehensive dental care provider, Smart Dental offers our cosmetic dentistry services for patients of all ages. We can address any issue that you don't like about your teeth and offer various treatments, including teeth whitening, tooth-colored fillings, tooth bonding, dentures, crowns, veneers, and implants.
If you don't like your gummy smile or you're feeling self-conscious about your chipped, crooked, or missing tooth, don't hesitate to talk to our cosmetic dentist so you'll regain your confidence as soon as possible.
Call Smart Dental at (224) 243-8196 to Schedule an Appointment with our Techny Cosmetic Dentistry specialists!
Dental Bonding
Do you have cracked, chipped, or gap teeth? Or perhaps your teeth are starting to decay or discolor? Our dental bonding service can be what you need to correct these issues and improve your smile's appearance.

With dental bonding, you can easily improve your smile by having a tooth-colored resin applied to your offending tooth. The resin will then be hardened with a special light and will effectively bond to your tooth and make it look good again. The process can only take between 30-60 minutes, is minimally invasive, and often requires no anesthesia at all.
Our Techny cosmetic dentistry experts can complete the dental bonding process as efficiently and accurately as possible. We pay close attention to every detail to ensure that your tooth will look its best once the procedure is done. We will even make sure that the shade of resin that we'll use will be the perfect match for your set of teeth, giving it the most natural look possible.
If you are looking for a convenient quick fix or an effective permanent fix for your minor dental problems, dental bonding can be a worthwhile solution. However, keep in mind that this treatment is not as long-lasting as other restorative, cosmetic procedures. It may even stain or chip after some time.
Root Canals
If your tooth is being killed by decay, root canal treatment can aid in its treatment. It is done so the risk of infection or abscess will be reduced, preventing further negative effects on your teeth and overall health.
Root canal therapy will be able to relieve your toothache, minimize its infection, and help promote healing.
Our top cosmetic dentist will explain to you how the entire procedure works and how you can best take care of your oral health after the therapy.
As the root canal procedure is completed, the exposed roots within your tooth will then be covered, typically with a permanent composite filling.
At times, a custom-fitted permanent crown will be used.
While your permanent crown is still being custom-crafted, we'll have to provide a temporary crown in the meantime.
Dental Implants
If your tooth is already severely decayed and it's almost breaking down or entirely missing, it can be ugly to look at while being painful and uncomfortable. Our Technycosmetic dentistry services include dental implants, which will help address this issue.
Smart Dental can provide you with dental implants that look more like natural teeth than dentures. These implants will also work as effectively as your natural teeth and may even last longer than your other permanent teeth. And unlike dentures and dental bridges, dental implants are a more comfortable and natural solution for tooth replacement.
Although popular and effective, dentures and dental bridges may not be the best choice for every patient. The surrounding, healthy teeth can be affected by the bridges, and dentures can be quite uncomfortable and at times painful. These aren't the case with dental implants, and they're not hard to maintain.
Additionally, you can already eat a light evening meal on the same day of your dental implant procedure! So talk to our cosmetic dentist today and find out if dental implants will work best for you.
Dental Crowns
Aside from repairing and strengthening your damaged teeth, utilizing dental crowns can also aid in a lot more. It can improve the appearance of your teeth in terms of color, shape, and alignment.
Used as an effective dental restoration device, a crown consists of a porcelain cap that will be placed on top of your offending tooth or dental implant and get cemented in place. The dental crowns we provide will be accurately sculpted, so they replicate your tooth enamel's natural look and make your tooth more attractive, even compared to your undamaged original tooth.
Also, dental crowns are practically unnoticeable since they cover the entire surface of your tooth.
So whether you want to repair your damaged tooth to ease the pain or to simply make your smile more pleasing or both, our cosmetic dentists can provide you with long-lasting dental crowns to resolve your problem.
Porcelain Veneers
If you're looking for an alternative to dental bonding, porcelain veneers will be a good choice. It can improve the appearance of your smile by giving your teeth a durable ceramic layer of protection. Porcelain veneers also come in different types, which require varying levels of preparation before the adhesion.
Our cosmetic dentists at Smart Dental will guide you through your options and help you choose which type is best. We do this by considering several relevant factors, including your aesthetical goals, budget, and medical history. We can do either no-prep or minimal-prep veneers, meaning we'll only have to remove the lightest layers of your original tooth enamel before we install and cement your new veneers.
For best results, each teeth veneer is individually crafted to specifically fit your mouth, giving you a natural-looking smile. Additionally, custom veneers are more resistant to stain than natural teeth. You can actually use them to whiten your teeth or to correct other visible flaws.
Techny Cosmetic Dentistry
As a complete Techny, IL cosmetic dentistry service provider, Smart Dental is committed to helping all our patients in rebuilding their confidence with a beautiful smile and painless teeth. Our comprehensive list of dental care services includes a wide range of solutions to repairing and improving teeth damages and imperfections.
Aside from our satisfactory cosmetic dentistry services, we also provide emergency dental services and can cater to all your regular dental needs. With our skills and top-of-the-line equipment, we can efficiently identify and resolve any of your current dental problems and prevent possible future concerns at the same time.
Also, if you're worried that our cosmetic dentistry services aren't covered by your insurance, you'll be happy to know that our treatments are more affordable than you first thought. We also provide payment plans and discount programs so you can get thorough dental care without worrying about a huge bill.
So, if you want to look your best and keep your oral health in check, call Smart Dental and discuss your needs with our expert cosmetic dentists today!
Complete Dental Care Providers
We know how important it is to take care of your dental health and teeth appearance. With proper dental care and treatment, you can eat and talk comfortably without suffering from toothache and feeling self-conscious about the look of your smile.
So whether you are looking for a quick fix for your chipped tooth or you want to permanently get rid of your bad bite or decaying teeth, Smart Dental can provide you with all the dental services that you need. So, don't hesitate to call us and discuss your certain dental needs. We'll be more than glad to walk you through all the solutions available to you and help you determine which is best for your specific dental issue.
Call Smart Dental at (224) 243-8196 to Request an Appointment with our Techny Cosmetic Dentistry specialists!