Techny Family Dentist
Experience the excellence of comprehensive dental care for the whole family at Smart Dental Cosmetic and General Dentistry, a leading dental clinic in Techny, IL. Our team of skilled and personable family dentists is committed to providing top-quality services that bring out the best smiles in every member of your family.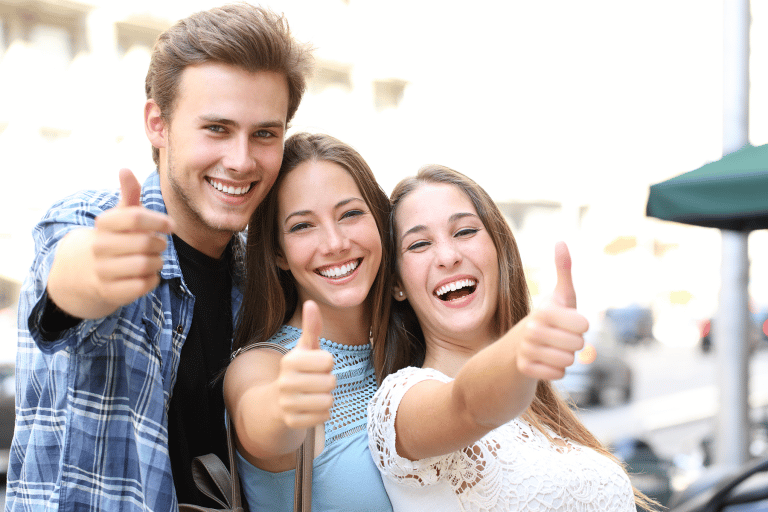 At Smart Dental Cosmetic and General Dentistry, our dedicated team of dental experts is committed to helping individuals achieve their best smiles. We offer a comprehensive range of cosmetic treatments and orthodontic services to address various dental concerns. Whether your teenagers require specialized dental care for issues like bad bites, teeth gaps, or broken crowns, our experienced family dentists can provide effective solutions. Additionally, if you need teeth alignment or other corrective measures, we offer advanced options such as Invisalign and other exceptional products to help you achieve optimal dental health.

In addition to enhancing the aesthetic appeal of our clients' smiles, we are equally committed to safeguarding their overall dental health. While we take pride in delivering white and well-aligned teeth, we understand that our mission goes beyond cosmetic improvements. Identifying and addressing early dental issues, such as tooth decay and gum disease, is vital to our commitment to comprehensive care.
At Smart Dental Cosmetic and General Dentistry, our primary objective is to promote optimal dental well-being for our clients and their families. We offer a wide range of services to cater to their diverse needs, from routine checkups and tooth extractions to diagnosing and treating more complex conditions, including impacted wisdom teeth and oral cancer.
Does your child need immediate dental treatment due to an accidental injury? Are you interested in exploring teeth alignment options for yourself or your family? Or are you simply looking to schedule your annual dental checkup? Whatever your family's dental care needs, you can find everything you're looking for at Smart Dental Cosmetic and General Dentistry. Experience exceptional care with our team of skilled Techny family dentists.
Call Smart Dental Cosmetic and General Dentistry today at (224) 243-8196 to Schedule an Appointment with our Techny Family Dentist!
Routine & Preventative Care
While it's common for people only to visit the dentist when they require braces, experience toothaches, or need extractions, we believe it's important to emphasize the significance of maintaining good oral health as a crucial aspect of overall well-being. Taking care of oral health is essential for a holistic and healthy lifestyle.
To maintain good dental health, it is recommended by the American Dental Association to schedule regular checkups with your dentist. These checkups are typically covered by most insurance providers every six months, allowing you to prioritize your dental well-being without additional financial burden.
At Smart Dental Cosmetic and General Dentistry, our dental checkups involve thoroughly examining your teeth and overall oral health. We utilize X-rays to identify any potential abnormalities or conditions requiring treatment. To protect children's teeth, we also offer dental sealants as a preventive measure to prevent issues like plaque and cavity buildup.
Our experienced dentists are knowledgeable in providing comprehensive, long-term dental care. You can trust us to guide you in maintaining optimal oral health and ensuring you receive the necessary preventative treatments for your teeth and mouth.
Our Dental Exams
At Smart Dental Cosmetic and General Dentistry, we offer dental exams according to the frequency allowed by your insurance, typically twice per year. Our services cater to individuals of all ages, from children as young as 12 to our elderly patients in need of dental care. Whether you require routine dentistry, restorative dentistry, or emergency dentistry, we have you covered.
Our extensive range of services includes top-quality dental bridges, porcelain veneers, dental implants, dental crowns, and various orthodontic devices to address your specific needs. Additionally, we provide comprehensive dental treatments, such as teeth cleaning and root canal treatment, to ensure the overall health and well-being of your teeth.
At Smart Dental Cosmetic and General Dentistry, we offer a comprehensive and efficient dental service package that utilizes state-of-the-art equipment and high-quality dental products. In addition to providing exceptional in-office treatments, we are committed to educating our clients on proper at-home dental care practices. Our goal is to empower you with the knowledge and tools necessary to maintain optimal dental health outside of our clinic.

During our dental checkups, we follow a standard protocol that includes the following procedures:
Tooth decay and cavities

Oral cancer

Gum disease

Periodontal disease

TMJ

Issues with wisdom teeth

Bite problems such as underbite or overbite

Cosmetic dentistry concerns
Early detection of dental issues is crucial for easier and less complex treatments, benefiting both our dentists and clients. We prioritize preventive care to minimize future complications and reduce costs for our clients.
At our clinic, we welcome clients without medical insurance. We offer discount programs and flexible payment plans to ensure convenient access to quality dental care.
When it comes to your family's dental needs, Smart Dental Cosmetic and General Dentistry is the dedicated Techny family dentist you can trust. We provide comprehensive dental services for both adults and children, ensuring exceptional care for the whole family.
Complete Family Dental Care Providers
If you're in search of a dependable and highly skilled Technyfamily dentist, look no further than Smart Dental Cosmetic and General Dentistry. We take pride in providing exceptional dental services that exceed your expectations.
No matter what your dental goals may be, whether it's enhancing your smile cosmetically or maintaining the oral health of your family, Smart Dental Cosmetic and General Dentistry is here to guide and support you throughout the entire process. With every service we offer, from orthodontic treatments to routine oral examinations, we are committed to delivering the highest quality care possible.
Call Smart Dental Cosmetic and General Dentistry today at (224) 243-8196 to Request an Appointment with our Techny Family Dentist!